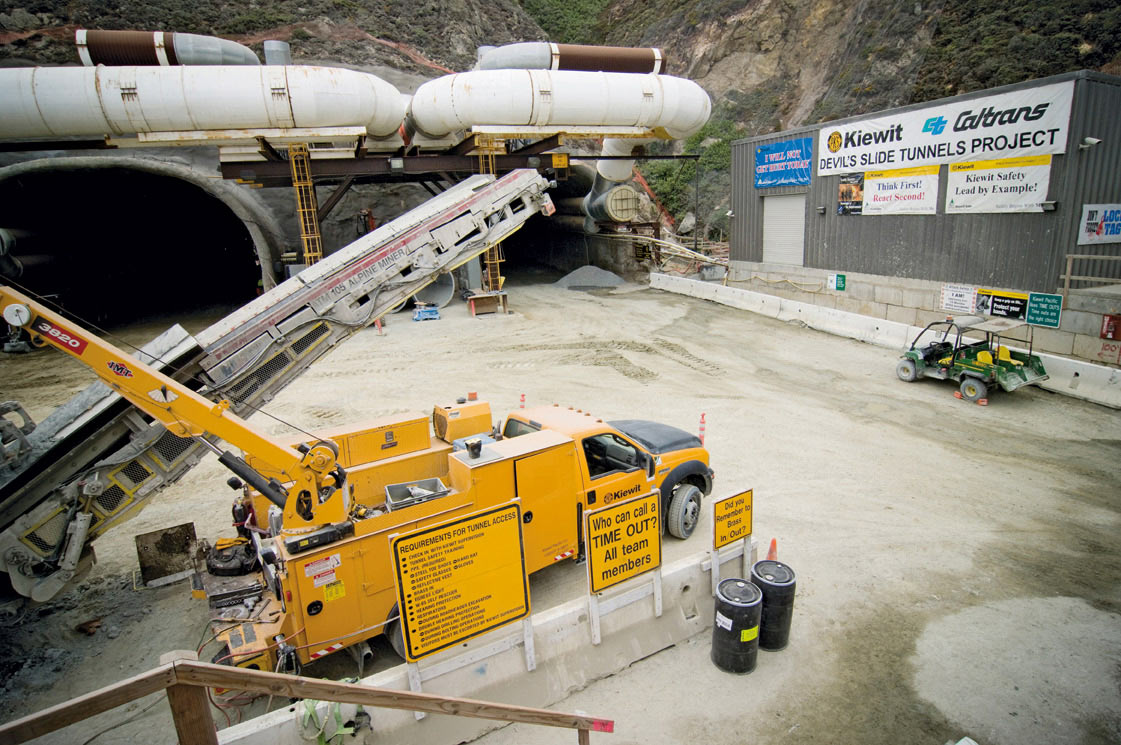 Tunnel avoids Landslide: DSI supplies Quality Systems for By-Pass
Quality Systems by DSI for Construction of Devil's Slide Tunnel near Montara, California, USA
South of San Francisco, California's Highway 1 takes its course directly along the impressive steep cliffs of the coastline. Between the towns of Pacifica and Montara, the highway passes a region that is aptly named "Devil's Slide". This region is geologically extremely unstable and characterized by erosion, with landslides occurring on a regular basis.
Time and again, traffic on Highway 1 has been affected by these landslides. The last time it had to be closed was between April and August 2006 because the road had slipped towards the ocean and was severely damaged. In order to avoid similar incidents in the future, in May 2005, construction began on a double tunnel that is to lead traffic slightly further inland away from this dangerous rock formation. The two parallel tunnel structures run underneath San Pedro Mountain, each of them being 9m wide and nearly 1.3km long.
DSI Underground Systems Inc. Bristol and DSI Austria are actively involved with specialist products for tunneling in this project. The primary method of supporting the tunnelexcavation is with lattice girders, rock bolts and shotcrete, commonly known as NATM or Sequential Excavation Method. The contractor elected to work with DSI due to the complexity of supplying 18 different profiles of lattice girders which will be used to support the twin main tunnels, the equipment chambers, various cross passages and access areas. In total, 1,531 courses of lattice girders will be used, along with DSI threadbar used as rock bolts, also supplied by DSI.
The design required the use of approximately 20,000m of IBO Self-Drilling Anchors in diameters of 32mm and 38mm which can be easily adapted to different rock mass and soil conditions. The IBO Self-Drilling Anchor allows simultaneous drilling, installation and injection, which is why it is especially efficient in comparison to conventional anchoring methods. ACI and DSI have also supplied approximately 3,000 4m long self-drilling Tube Spiles so far. The anchor bar is simultaneously used as a drill rod, thus optimizing machinery requirements.
For the construction of the two tunnel sections, DSI also supplied AT-Casing Systems AT-114 and AT-76/DR. The AT-Pipe Umbrella Support System is used for ground improvement during mechanical excavation, distributing loads longitudinally. The ATDrainage System allows an efficient drainage of slopes during tunneling. Both of these specialist products are particularly efficient and time-saving thanks to simultaneous drilling and tubing.
Once again, high quality tunneling products by DSI made an important contribution to the quick and safe realization of the construction work for this project.
Back
More Projects