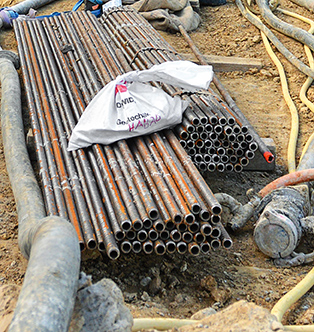 DSI Underground supplies high-quality Ground Support Products for the new Ottawa Light Rail Transit Confederation Line
In Ottawa, Ontario, in Eastern Canada, the existing light rail transit network O-Train is being extended towards the east, west and south by a total of 30km. Construction of this largest infrastructure project in the city's history started in 2013 and is expected to be completed in 2018.
A 2.5km long Confederation Line tunnel is being built that will form the heart of the line through the city center with three downtown underground subway stations. One of the most challenging parts of the project was the construction of the caverns required for the approximately 120m long station platforms, which have already been designed for a future expansion when more light rail lines will be added to the system. The tunnel is being advanced using the New Austrian Tunneling Method (NATM) from the western and an eastern portals as well as from a centrally located launching shaft. The tunnel is advanced using road headers through limestone and sporadic clay and sand deposits. DSI Underground Systems provided a wide range of ground control solutions for several stages of the project. Initially, an AT – 89 Pipe Umbrella Support System was used as a pre-support measure for the portal areas. To ensure a safe working environment and stable conditions at the tunnel face, the AT – 76 Drainage System was used for dewatering. Furthermore, DSI Underground produced and supplied 3- and 4-bar Lattice Girder Systems. The 4-bar lattice girders served for cavern support in the subway stations and the 3-bar lattice girders for connecting the side drifts. Additionally, DSI Underground supplied presupport in terms of various DSI Spiles and forepoling boards for sections in difficult ground.
Back
More Projects